Ahnvee Resort & Sports moves from on-premise system to Hotelogix Cloud PMS; sells 40% more rooms
"Thanks to all the integrations it allows, we have increased room sales by 40% which is a dream-come-true for any manager! With Hotelogix, we make money even when we are asleep!"

- Milka Dominguez, Reservations Manager,
Ahnvee Resort and Sports
About Ahnvee Resort and Sports
Located on the North coast of Dominican Republic, Sosua is a popular tourist destination, known for its beaches, resorts and nightclubs. Ahnvee Resort and Sports is situated conveniently at a short walk away from the Sosua beach. With facilities like a bar, two outdoor pools, three on-site restaurants and free Wi-Fi, the resort attracts tourists from across the world.
Their reviews on multiple travel review sites will vouch for the fact that they have a loyal set of repeat guests!
Scenario and Challenges
When they started off operations, the resort's management decided to go for an on-premise Property Management System to handle their day-to-day activities. This meant that the management had to be physically present at the hotel at all times, to stay on top of their game.
While this level of rigidity was turning out to be a massive challenge for them, they also faced other issues with the on-premise PMS, such as:
The system couldn't connect with a channel manager
Overbooking was rampant
They couldn't connect all their POS outlets to the PMS
Lack of automation impacted their operational efficiency
The system couldn't evolve with their growing business needs
Its features, overall, were restrictive and limited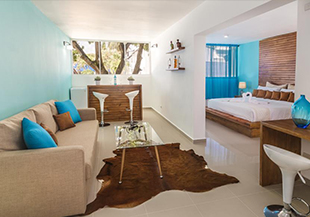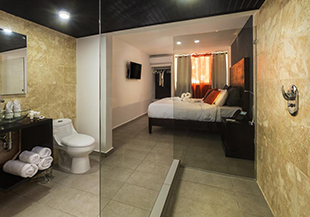 Solution
The management was keen on resolving these issues and decided to find an alternative system. They were on the lookout for a system that could be used on-the-go, and would help them unite all departments under one umbrella, so keeping track of them wouldn't be a task.
This is when they began reviewing cloud-based PMSs and Hotelogix was one among the many options they had. After careful reviews and assessments, they decided to go ahead with Hotelogix as it helped them address some of their biggest challenges.
Some of the solutions provided by Hotelogix that won Ahnvee Resort & Sport's management over, were:
Channel connect allowing real-time update of inventory & rates across OTAs
Setting up unlimited POS outlets
Automation of day-to-day operations
Comprehensive accounting and reporting features
Management Dashboard
Hotel Mobile App
Ability to handle heavy volume of work during peak seasons
Value for money
Ease of implementation and use
"Hotelogix has given us all the tools to make lives easier for our staff as well as our guests," says Milka.
Results
Ahnvee Resort & Sport has been using Hotelogix Cloud PMS since 2016. And, in this period, not only have they overcome several challenges that they initially faced with the on-premise system but also witnessed many positive results.
Milka elaborates, "Hotelogix has given us results that were beyond our expectations. Overbooking used to be a nightmare for us which we have now overcome, as the inventory is real-time."
The resort has witnessed business growth in multiple areas like:
40% increase in revenue
30% increase in bookings coming from OTAs
30% increase in direct bookings with Hotelogix web booking engine
Zero overbookings as the inventory is updated in real-time
Numerous man-hours saved weekly, thanks to automation
Housekeeping staff efficiency because of report generation
As a Reservations Manager who is multitasking and is always on top of bookings from all sources, Milka Dominguez credits improvement in her work life to Hotelogix, "Hotelogix has given me so much peace of mind. The Hotel Mobile App allows us the luxury of managing our reservations and see reports from anywhere, even while sipping coffee!"