Hotelogix Helped Increase our Bookings by 61% Year-on-Year
(A case study of Zerohotel, Valparaiso, Chile)
A Quick Look: The hotel was using a legacy system earlier and found it tough to manage their operations as they had to manually update the room inventories which led to double bookings. After integrating with Hotelogix PMS, they witnessed an increase in online bookings. The staff was happy as they didn't have to manually update the bookings & could access their system from anywhere, without any extra fee or hardware. Hotelogix helped the staff cut down on manual procedures & helped the staff save a lot of time for other things.
About Zerohotel
Zerohotel is located at Cerro Alegre in Valparaíso, Chile, and boasts of a privileged location as it is within walking distance from the best restaurants and tourist attractions in town. The house was built in 1880 and despite its restoration, it still maintains the authentic spirit of Valparaiso. The décor invites you to discover the essence of Valparaiso while lending a comfortable home-like ambience. The hotel has 3 terraces with frontal bay view and 9 rooms; 4 with an open view of the Bay, and 5 with street or lateral view. The property also offers free Wi-Fi to its customers.
The Challenges:
In the past, the hotel was using a legacy property management system that was not user-friendly and did not update the room availability automatically. The hotel faced the problem of overbooking since reservations from OTAs were manually added during the day, while the front desk ended up reserving rooms during the night. They also had to pay extra according to the number of computers on which the system was being used. These issues increased the complexities in managing the property, which made the hotel look for alternatives.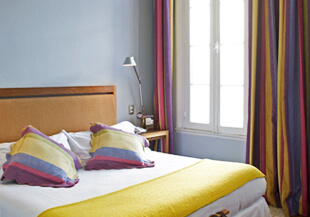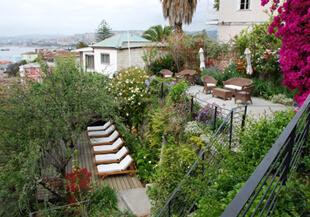 The Selection Process:
The management team was clear about what they were looking for in the new PMS - a user-friendly interface, integrated with OTAs so that online reservations could be done automatically, and paying just for the system regardless of the number of computers that would be connected to it. After taking a trial, they found Hotelogix to be the best fit.
Why Hotelogix?
"Hotelogix had what we were looking for: updating of bookings, checking the system in any laptop without any extra fee or hardware, creation of new rates and management of different OTAs (mainly Booking.com, Expedia and Splendia) from one site (SiteMinder). Now, we do not have to work separately with all OTAs. We are saving almost 100% time, thanks to it. All we have to do now with online reservations is simply check the bookings to prepare the rooms accordingly. No manual procedure is required."

Ms. Carolina Medina, Sales Manager, Zerohotel
Main Benefits of Hotelogix:
In today's changing landscape, online bookings are important for any hotelier's business and Zerohotel is no different. They have been seeing an increase in online as well as direct bookings after using Hotelogix. This has made the hotel understand the importance of dealing with a fully integrated system like Hotelogix.
Online Bookings:

After implementing Hotelogix, Zerohotel experienced approximately 61% increase in bookings year-on-year. In November 2012, they had 20 bookings from Booking.com & Expedia and in December 2012, they had 21 bookings. One year later, they had 32 bookings in November and 34 bookings in December.


Direct Bookings:

With the Hotelogix web booking engine integrated on their website, Zerohotel has witnessed an increase in direct bookings as well, thus saving on commissions given to OTAs. Reduced dependency on OTAs has in turn boosted revenues for the hotel, which is something to cheer about.