India's Stately Suites witnesses 20% increase in revenue with Hotelogix PMS
"Since the last 2 years that we have been using Hotelogix, we have seen a 20% increase in our revenue and a 10% rise in our OTA booking. Overbooking has become zero now, and we have been able to save man-hours. It has also helped us to efficiently manage corporate bookings along with drastically improving our online reputation."
Meher Patel, Managing Director
Stately Suites
About Stately Suites
Stately Suites is a group of 3 properties, located in the Delhi-NCR region with a total of 63 rooms. Going by its tagline "We Pamper", the India-based chain property prides itself in providing top-notch services to its patrons. Their primary customers are corporates who contribute to 80% of their business.
Scenario and Challenges
The group's management was handling operations with an on-premise PMS which had its own sets of challenges. The on-premise PMS didn't provide them with centralized control over their multi-property operations. They also had to update rates and inventory across OTAs manually, which was time-consuming and prone to error. Grappled by all these operational bottlenecks, the group was struggling to generate more revenues and drive business growth.
Here are some other challenges:
They couldn't access the PMS remotely
They had to update OTAs manually, as the PMS was not connected to a channel manager
They were facing overbooking issues
They had to manually handle guest reviews and feedback
Due to the above-mentioned operational bottlenecks, the management started looking for a feature-rich and comprehensive PMS.
"As a tech-savvy hotelier, I clearly understand the power of new-age hospitality tech platforms as they provide the much-required competitive edge. That is the main reason I decided to migrate to a cloud PMS. Out of the many we surveyed, Hotelogix was the only PMS that met all our requirements," Meher added.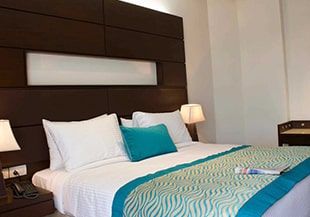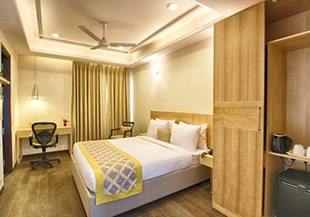 Solution
Hotelogix PMS resolved all the challenges that Stately Suites faced by offering the following solutions:
Cloud-based PMS
Centralised access
Centralized guest history
Integrated Channel Manager & PMS
Automation of guest review collection process
Results
For Stately Suites, Hotelogix PMS came as the ultimate platform that helped them automate and streamline operations. The integration between the channel manager and the PMS has enabled the group to evenly distribute rooms and rates on sales channels, leading to a 10% increase in booking coming via OTAs. Here are some other prominent results that Stately Suites has witnessed with Hotelogix:
Here are some of the ROI statistics Arunreas has witnessed, since implementing Hotelogix:
20% increase in operational efficiencies with centralized control
10% increase in OTA booking with an overall increase in occupancy from corporates
Improved capabilities to collect and manage guest reviews
Enhanced online reputation and ratings
No more overbooking
Anywhere, anytime access to the PMS and hotel data
Managing corporate bookings efficiently
Access to real-time insights, helping in tracking the outstanding amounts of their corporate clients