Thomas Albert Hotel witnessed 45% rise in online bookings and an overall 50% increase in revenue after moving to Hotelogix
A Quick Look: Thomas Albert Hotel was opened for its guests in May 2016. Initially, the hotel was using excel sheets to run their operations. But at some point, the team at Thomas Albert Hotel realized that to smoothly run their day-to-day operations and to avoid double bookings/over bookings they needed a fully automated Property Management System. The hotel was looking for a fully integrated cloud system that could be accessed from anywhere and drive incremental revenue. After switching to Hotelogix, Thomas Albert Hotel saw a high of 45% online bookings and 50% revenue increase while saving hours of manual work.
About Thomas Albert:
Built in 2016, Thomas Albert is located in the Chisinau City, Moldova. The hotel has 20 modern rooms that offers a host of amenities to make your stay comfortable and memorable.
Scenario and Challenges:
Formerly run entirely via manual processes, the management at Thomas Albert Hotel quickly realized they needed an automated system, a cloud-based PMS in particular, to improve their operational efficiency and reach diverse audience through real-time reservation management. The team wanted to ensure that there was no revenue loss by getting the right data to grow their business. They were looking for advanced reporting functionality (in a PMS) that can improve the business and enhance guest experience.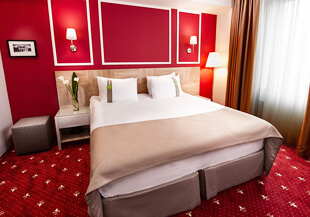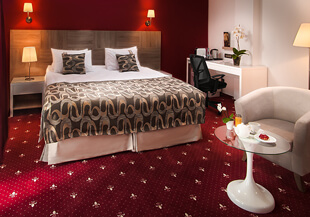 Solution:
"My colleagues from the hospitality industry, with the experience of other PMS advised to use Hotelogix, a cloud-based solution – to get the operational access of our property from anywhere and anytime. You have access to your property regardless of location and time. This is simply great!" comments Victoria Savga, Sales Executive, Thomas Albert Hotel. Victoria was spearheading the search for a new PMS.

After going through online training sessions, Victoria and her team was convinced that Hotelogix is the ideal solution to match their property requirements. "The customer support team is fantastic and was really prompt in answering all my queries. We are impressed by the 24x7 prompt help from the support team," marks Victoria.
The results:
"Using Hotelogix has made the life of our hotel staff easy, from Revenue Manager to Housekeeping. The integration of booking engine with PMS is providing a seamless user experience and real-time room availability, making it easy for visitors to see availability at a glance and make their reservation," a few of the benefits stated by Victoria after moving to Hotelogix. "The other important benefits are elimination of overbooking, competition monitoring, rate parity maintenance as well as the online distribution. I strongly recommend Hotelogix as a reliable partner to properties for revenue growth and process automation." Hotelogix offered the tools that promised to empower Thomas Albert Hotel to succeed in the online environment while giving complete guest profile, an essential for service personalization. Not only this, the management is able to make informed decisions, maximize efficiency and profitability because of fully integrated reporting and data analytics capabilities with the PMS.