Up to 15% increase in occupancy and 6 hours saved per day with Hotelogix PMS
(A case study of Riad Noir d'Ivoire, Marrakech)
A Quick Look: The boutique hotel was earlier using Micros Opera software but found it cumbersome to manage bookings. The to and fro of emails for every update in booking took up a lot of staff time. At times, the hotel lost revenues as it didn't receive booking confirmations. The software also did not allow connection to the OTAs. When the local representative of Hotelogix in Morocco gave a demo of the PMS to the hotel, the management decided to go ahead. Within months of using Hotelogix, the Riad experienced an increase in occupancy by up to 15% and the staff saved about 6 hours per day.
About Riad Noir d'Ivoire:
Riad Noir d'Ivoire is a 9-room boutique hotel in the Medina of Marrakech. The property is equipped with a heated pool, a small gym and cosy areas for the guests to unwind. The hotel also offers free Wi-Fi throughout most areas.
Managing bookings was time-consuming
Working with Micros Opera to manage operations, the hotel received all the bookings mainly via calls and emails since there was no OTA connection. The staff struggled with multiple operations:
Receiving and responding to several emails for a single booking like confirmation, advance payment, preferences and additional services became time-consuming.
They wasted a lot of time in checking availabilities, as well as confirmed and unconfirmed bookings.
The hotel ended up losing revenues as it forced them to block rooms without guarantee.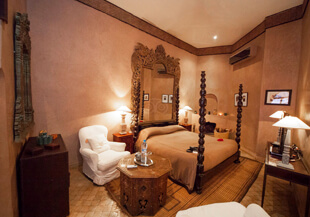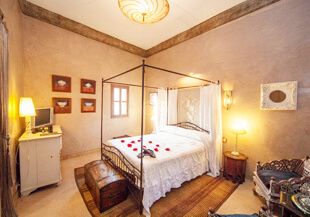 Hotelogix's local representative solved their challenges
Hotelogix's channel partner in Morocco, Forleaders Solutions, contacted the manager and introduced him to Hotelogix Cloud PMS by showing a free demo. The management really liked the PMS due to its user-friendly nature. The main objectives of the hotel were to set up a strong booking engine in their website connected with their global schedule and to reduce administrative tasks for their staff.

"We considered two systems but mainly chose Hotelogix due to the presence of a local representative and the easy-to-use features of the software," says Mr. Didier Martin, Manager at Riad Noir d'Ivoire.

The migration to Hotelogix PMS was swift and the hotel was guided by Forleaders Solutions at each step.
Increased occupancy, time saved and swift booking process with Hotelogix PMS:
Riad Noir d'Ivoire shares the benefits experienced after switching to Hotelogix:
The booking engine integration on the website with the payment gateway improved the hotel's occupancy
It also simplified the way the staff managed bookings that came from a global audience
The hotel saved money as it opted for TripAdvisor's TripConnect integration with Hotelogix which offers direct booking capabilities
Mr. Dider says, "We were thinking for a while about connection to an OTA but the TripConnect experience was so great that we didn't need it anymore and we saved on commissions."
The hotel has managed to increase its occupancy by 10-15% within a few months
The management and staff have freed up 5-6 hours per day and they use this time in serving their guests better and developing new products
"Hotelogix is a very interesting PMS for small properties like ours; I strongly recommend it for boutique hotels and guest houses. The web booking engine and ability to connect with TripAdvisor has helped us a lot. We appreciate the presence of the local French speaking representative as it helped master the system from the beginning."

Mr. Didier Martin, Manager. Riad Noir d'Ivoire