Hotelogix reduced paper work, provided remote access and saved 1 hour daily
(A case study of Hotel Atlantic Agdal, Morocco)
A Quick Look: Hotel Atlantic Agdal previously worked with a local PMS and faced a lot of management problems. Handling various operations at the same time was getting laborious as they had to manually manage each OTA for bookings. It was when Forleaders, the local representative of Hotelogix in Morocco, introduced them to Hotelogix PMS, they started seeing the benefits in no time. Cloud's benefit of anytime anywhere accessibility proved to be a boon for the owner. The automated flow of operations saved the owner 1 hour daily to perform other tasks.
About Hotel Atlantic Agdal - A Designer Boutique Property:
Hotel Atlantic Agdal is the first boutique hotel in Rabat. The property is located in the heart of the main business service district of Agdal. It consists of 44 rooms and 3 suites, designed by Jean Baptiste Barian – a renowned designer.
Hotel faced management issues with the local PMS
The boutique hotel was working with a local PMS and faced a lot of managerial issues. During the launch of the property, the staff experienced chaos with the amount of paperwork like printed booking confirmations from the OTAs and offline travel agents.

The lack of channel manager integration resulted in manually managing each OTA extranet separately. All these factors became worrisome for the hotel as with the growing business, management was getting harder.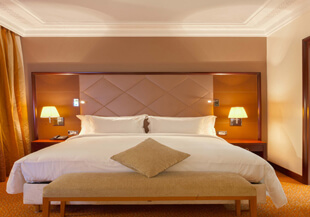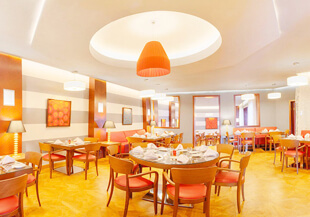 Local representative helped in thorough evaluation
Hotelogix's partner in Morocco, Forleaders Solutions, contacted the owner and introduced her to Hotelogix PMS.

"We found that their representative understood our needs well and had good knowledge of new technologies involved in the hospitality sector," says Owner and General Manager, Atlantic Agdal.

The ability to access Hotelogix from multiple devices like PC, Mac, iPad and Smartphones proved beneficial as the owner travelled often and the remote accessibility would allow her to view the bookings from anywhere and at any time. The system matched all their requirements.
Transition to Hotelogix PMS was easy
The hotel manager did not consider any other system after evaluating Hotelogix PMS.

The system including channel manager integration was implemented smoothly within one month and the local representative assisted during the transition by being present in the hotel whenever required.
Saved time, effort and environment using Hotelogix PMS:
The owner states, "Since I was new to the hospitality sector, Hotelogix helped me a lot to follow up with the operations easily. The interface is so simple that I get to view all the details on a single screen."
Front desk displays all the bookings on a single screen and the colour coded room and housekeeping status helps the staff identify any updates.
The channel manager integration shows up-to-the-minute bookings received from the OTAs
The owner saves up to 1 hour daily due to the operations being automated
The anytime anywhere accessibility lets the owner operate remotely from any device and at anytime
The paperwork has reduced significantly as the printed booking confirmations have been eliminated
"I appreciate the remote access feature that Hotelogix PMS provides and I am able to login to the system through various devices. Last but not the least, Hotelogix PMS lets us help the environment by reducing the paper work. Without any hesitation, I recommend Hotelogix to the new hospitality managers like me."

- Owner and General Manager, The Atlantic Agdal