Hotelogix: The Cangkringan Jogja Villas & Spa, Indonesia
(A case study of The Cangkringan Jogja Villas & Spa, Indonesia )
A Quick Look:
The hotel was using a legacy based PMS prior to implementing Hotelogix which led to high costs. They realized the importance of cloud based system and chose Hotelogix over other offline PMSs like VHP, Fidelio, Realta as Hotelogix offered them numerous solutions and benefits, turning out to be highly cost effective. The hotel owner is very impressed as he could save over 9000 USD by implementing Hotelogix.
About The Cangkringan Jogja Villas & Spa

The Cangkringan Jogja Villas & Spa is a boutique resort located in the foothill of Gunung Merapi , Yogyakarta, Java, Indonesia offering five star butler service. Built in a blend of Javanese and Modern architecture, this boutique resort and spa, is the perfect destination for honeymooners, family retreats as well as business trips.

Guest can enjoy 19 individually designed villas, and 8 rooms, surrounded by a lush tropical garden, a private pool and an open air living room with personalized butler service.
Background & Pain Points
The Cangkringan Jogja Villas & Spa implemented the Hotelogix PMS in August 2013. Prior to this the hotel was using a legacy based PMS for managing the hotel.

The boutique hotel realized that a legacy PMS was not suitable for them because of the prohibitive costs. They wanted a system that could be implemented without the high investments in IT infrastructure and regular maintenance costs. The hotel felt a cloud based system would be a better fit for their needs since there would be no extra implementation costs, plus they would not require dedicated IT staff to monitor their IT infrastructure since all updates, system upgrades and everything else would be taken care of automatically.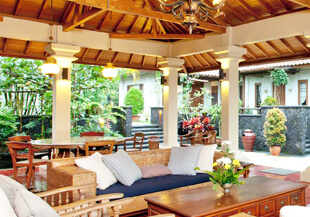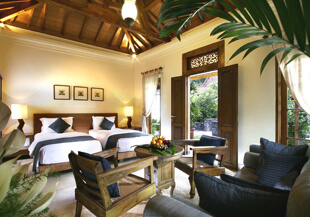 Hotelogix Solution and Benefits
No need to buy local servers or install any cables since the PMS is cloud based
Can be accessible anytime and from anywhere, only an internet connection is required
No need for any IT staff to maintain the servers, maintenance is done online
Cost effective especially compared to an offline legacy model
Reasons for Choosing Hotelogix
Easy to use
Provides complete security with regard to monetary transactions and information
Cost Effective
Great reporting system - Offers reports to give great insight into our present and future business projections
We chose Hotelogix because compared to offline PMSs like VHP, Fidelio, Realta etc., it offers numerous solutions and benefits and is very cost effective. We saved over 9000 USD by choosing Hotelogix since we didn't invest in any hardware, cables, IT staff etc.
Ruby M. Aries, Operation Director, The Cangkringan Jogja Villas & Spa