Nepal's Hotel Heranya witnesses 20% increase in revenue with Hotelogix cloud-based PMS
"Hotelogix Hotel Management Software is extremely feature-rich and caters to every need of our hotel. With Hotelogix cloud PMS, we have been able to handle overbooking issue, quite efficiently. We are happy to see how the PMS helps us in real-time inventory distribution. Very soon, our second property will go live with Hotelogix as well."
Ravi Manandhar, General Manager
Hotel Heranya
About Hotel Heranya
Hotel Heranya is a family-run, leisure hotel with 17 rooms, located in Kathmandu, the capital of Nepal.
Scenario and Challenges
Hotel Heranya had been managing its operations manually, until 2 years ago. But this was proving to be exceedingly challenging, for the following reasons:
Inventory & Rate distribution on OTAs was done manually
Overbooking was very common and a constant threat
They had to handle POS separately, leading to mismanagement
They couldn't scale their operations
Gaining and actioning insights was not an option, as reporting wasn't streamlined
Overall, lack of automation crippled their operational efficiency
With all these challenges looming over them, they decided to change the way things were managed. This is when the hunt for a feature-rich and easy to use, cloud-based Property Management System began and they stumbled upon Hotelogix.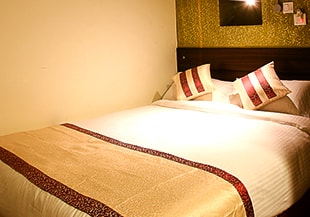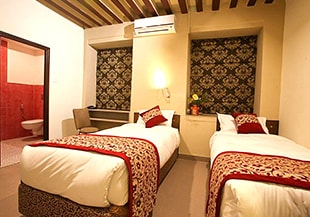 Solution
In the face of the challenges they faced, Hotelogix came as the perfect system to not just overcome all of them but also do away with them. Some of the Hotelogix solutions that proved beneficial to Heranya are:
Automation of their daily operations
Unlimited POS
Rich and reliable accounting and reporting options
Unwavering Data Security on the cloud
Management Dashboard allowing hotel management to stay on top of things, always
Results
In the two years that Hotel Heranya has been using Hotelogix, they have successfully transformed the way they manage their business. Even though the cloud-based PMS has enterprise-grade features, the family-run hotel has found its perfect PMS in Hotelogix.
Hotel Heranya now saves several man-hours weekly, because of the automation of daily operations. They also have anytime-anywhere access to hotel data, thanks to the Mobile Hotel PMS app. These apart, the Hotel has also seen some transformational results. Here are some of the bigger changes they have witnessed since implementing Hotelogix:
They have seen a 20% increase in revenue
They have overcome overbooking issues
A 10% increase in direct bookings has been registered
They have been able to resolve issues in almost no time, thanks to the '24/7 support' offered by Hotelogix
Bookings from OTAs have increased by over 20%
In Ravi's words, "For our second property, we knew Hotelogix PMS was the best choice given how quickly we could resolve the issue of overbooking. We are sure that with Hotelogix PMS supporting our new 8-room boutique property, we are in safe hands."