Topsail Shores Inn Enjoys Full Occupancy after using Hotelogix
(A Case Study of Topsail Shores Inn, North Carolina, USA)
A Quick Look: Mike Brown, General Manager of Topsail Shores Inn, used to manage all of his business through spreadsheets and did not have access to the online marketplace. As his property grew and expanded, this method became increasingly difficult and he decided it was time for a shift to an online system. After a successful trial period, Brown decided that the Hotelogix platform was the best fit for his property. Using Hotelogix PMS and distribution system, he is able to keep his property highly organized and consistently booked. He can now use the time he saves to address other areas of his business.
About Topsail Shores Inn:
Topsail Shores Inn is a 23-room property located in Sneads Ferry, a pleasant fishing village on the coast of North Carolina, USA. Topsail Shores Inn offers the lowest rates and nicest rooms in the area, and is conveniently located near a variety of restaurants and shopping centers.
Looking to Upgrade Management Systems:
Brown previously used spreadsheets to manage his new property and track bookings. This method became increasingly difficult as his business continued to develop. It also prevented him from maximizing his occupancy, as there was no integration to manage online bookings.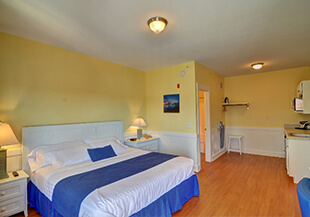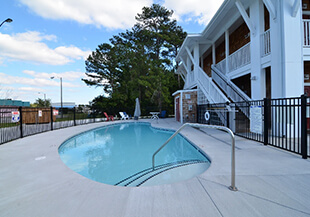 Finding the Right Fit:
Brown began to seek out cloud-based property management systems that would better suit the needs of his growing property. He was evaluating a few different systems, and was able to undergo trial runs and demonstrations of each before making final decisions. He was very impressed that, unlike the others, the Hotelogix trial was such an independent experience. It allowed him to see first-hand how the system would function for his property. Brown also found it to be a very affordable solution, and decided to implement Hotelogix shortly after his trial period.
Solving problems and saving time:
After the smooth implementation of the Hotelogix PMS that offered connectivity to online channels, Brown saw many benefits materialize. He found that he spent much less time managing the reservation process, as the Front Desk interface simplified this process for him. He was better able to track the status of each room's availability, and the channel manager as well as GDS integration helps the inn maintain maximum occupancy throughout the year.
Brown estimates that he saves up to 3 hours per day, which he can then spend to improve his web presence and advertising efforts. With the Hotelogix platform, day-to-day tasks are streamlined and Brown can focus more of his time and efforts on larger, big-picture business decisions.
"I have been using Hotelogix since August of 2012 and I must say that I am more than delighted. Hotelogix is a very reliable system that has eased day-to-day work, giving me up to 3 hours of free time per day. The system makes all our rooms available online which helps us stay fully booked."
-Mike Brown, General Manager